Our range of Lenormand Decks
Marie Anne Adelaïde Lenormand was a great clairvoyant in the 18th and 19th century. It is not clear the year she was born (1768 or 1772), but in most sources the date may 21, 1772 shows up.
She is one of the very few whose prophecies have been recorded in history books.
She was born in Aleçon, France and died in Paris, France at the age of 71 on June 25, 1843. She learned to read cards and palms when she was very young. It is said that she used the Petit Etteila, Playing Cards, Thot tarot and other cards. A few years after her death a deck of cards called "Le Grand Jeu de Mlle. Lenormand" was published by Grimaud.
It is said that this Lenormand oracle deck was made and designed having on account what Lenormand's friends and clients knew about them, but it is difficult for me to believe it. Other theories say it was just a marketing stunt.
Marie Anne Adelaïde Lenormand became most famous for counselling Josephine de Beauharnais. She foretold that Josephine will become empress of France, she become Napoleon's wife later on. She was also famous for divining the future for three men of the Revolution, whom she foretold a violent death: Marat, Robespierre and St. Just.
Later on Mlle. Lenormand warned Josephine that Napoleon wanted to divorce her before he had mentioned this to anyone. Napoleon was so angry that he ordered to jail her.
In 1814 she began to write her memoirs and other books, in which she wrote about her dealings with prominent parisians...
Madame Lenormand was so devoted to her art that she used a custom 36 card deck of her own design. Each card carries more than one meaning. In most spreads the meaning of each card in a specific reading is directly related to its proximity to the card that represents the person the reading is for.
Lenormand by Carta Mundi
Our worldwide best seller at 3,00 euro only !... 36 cards 56 x 87mm (2 1/4" x 3 1/2") full English version available...
Lenormand by Carta Mundi English version: 5,00 euro
Lenormand by Carta Mundi French version: 3,00 euro
Lenormand by Carta Mundi Dutch version: 5,00 euro
Lenormand by Carta Mundi German version: 5,00 euro
---
Mlle Lenormand by Piatnik
This fine little deck is illustrated with classic fortune telling scenes from the 19th Century. A tribute to the famous Salon cartomancist Mlle Lenormand published by Piatnik. This is a replica of a beautiful early 20th century Lenormand deck from Austria, with fully painted watercolour artwork, a detailed multi-language history of Lenormand and her cards, and full instructions for card reading. 36 cards, 2 1/4" x 3 1/2", instruction booklet included. The boxed deck includes 36 full color cards and a small instruction booklet in English, German and French. Price: 5,00 euro only!
---
Lenormand Swiss Red/Blue Owl
Another version of this famous deck, this time made in Switzeland. This game, is beautifully drawn in melted tones. It will allow in your intuition to develop, and to say the future uninhibitedly. Texts written on cards are in a current, simple and precise language and it will be you of a big help to realize your prédictons. Collectors of Tarot cards will find this deck a charming addition to their collection. "Red Owl" is for French version, "Blue Owl" stands for full English version.
Lenormand Swiss English version: 7,00 euro
Lenormand Swiss French version: please see on www.lepalaisdutarot.com
---
Mystical Lenormand deck
This deck is a new edition of the Fortune Cards of Marie-Anne Lenormand, the Sibyl of Paris. The cards are painted by Urban Trosch in classical Eitempera technique in brilliant colour. This small deck measures 6 cm x 9 cm. It contains 36 cards and instruction booklet. Mystical Lenormand deck (english version): 9,00 euro
---
Ancien Lenormand oracle cards
This is a beautiful reproduction of a French Lenormand style cartomancy deck of the late 19tth century. There are 36 cards in 4 suits (Hearts, Diamonds, Clubs, Spades) with 24 pip cards (A, 6, 7, 8, 9, T), and 12 court cards (K, Q, J). As in most Lenormand decks, the Ace of Hearts is a well- dressed man in a formal garden and the cards are set-numbered in random order, as if they had been pre-shuffled, so the Ace of Hearts is set-number 28, while the 9 of Clubs is set-number 14.
Ancien Lenormand Oracle (English version): on request
---
Lenormand Oracle game by Lo Scarabeo
A faithful reproduction of the deck printed in Paris in 1890, designed by Napoleon's cartomant. Deck measures 7 cm x 11 cm, by Lo Scarabeo.Price: on request
---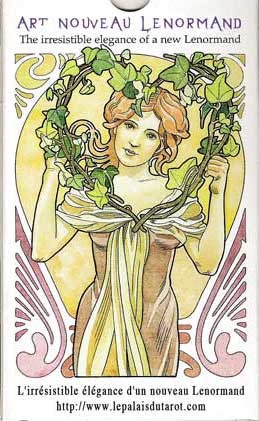 Art Nouveau Lenormand
Fortune-telling pack with designs in the Art Nouveau (or Liberty) style. Subjects based on the Lenormand pack. Instructions by Emanuela Signorini. Cards numbered 1 to 36 but without titles.
Size: 62 x 100 mm. 36 cards + 32 page booklet in English, Italian, Spanish, French and German. Price: 9,00 euro
---
Madame Lenormand Tarot (78 cards)
The first tarot deck inspired by Madame Lenormand, the most famous cartomant in history. The images come from the Book of Thoth by Etteilla and from the oracle cards by the same Lenormand. Thanks to the simplicity of these Tarots and their actual intuition, a key to read the present, past and future can be found. Artwork by Ernest Fitzpatrick. 78 cards – 66 x 120 mm
Tarot Lenormand deck by Lo Scarabeo (English version): 19,00 euro
Le Tarot de Madame Lenormand (French version): 19,00 euro
---
Gypsy Lenormand Oracle deck
These cards blend the symbolism of the famous Mlle Lenormand Oracle Deck with the art of Gypsy fortune telling. Natural, harmonious colours and archetypal geometric patterns, together with cult objects and secret signs of the Gypsies, set the tone of their vivid pictorial language. 36 card deck and booklet, measuring 7.5 cm x 11.5 cm by AGM AGMuller.
Gypsy Lenormand Oracle deck (english version): on request
Tziganes-Lenormand (French version): on request
---
Small Lenormand by Grimaud
This game of 37 cards resumes the mythological prints of the Astrological Game. You will use it with an incredible ease because in the right top are registered correspondences with famous " Small Lenormand " of Carta Mundi (for example: the letter, the rider, the key etc.). In the left superior corner, the representation of a common card will be useful to make your editions and, finally , in the centre, you will find definitions which will complete with happiness your personal interpretations. A game is complete, easy and being able to solve any situation. English Version.
---
Astro Mythological Game by Grimaud
A lovely Lenormand-style deck that will make you feel as if Napoleon is waiting in the next room for his reading. The boxed deck includes 54 cards in full color and an instruction booklet in English and French. Published by Grimaud.
---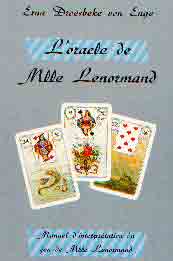 English Book "Oracle by Mlle Lenormand"
This English book is an approach of the famous game "Jeu Lenormand " in a the most traditional way it is. The author wanted to stay in the authenticity, it is a real return to basics. Easily understandable, it will give you a series of keywords with regard to every card but also a longer explanation while keeping the real sense which famous fortune-teller gave to them. Written by Erna Droesbeke von Enge. Price: 22,00 euro
---
Het Orakel van Mlle Lenormand SET - Nederlands versie!
Lenormand set + boek, Nederlandstalige versie, Het Orakel van Mlle Lenormand
Handboek bij de originele Cartamundi - Lenormandkaarten
Het klassieke handboek vor de Lenormandkaarten
Erna Droesbeke von Enge heeft een jarenlange ervaring met kaartleggen, tarot en astrologie en is de grondlegger van het ontsluieren van de symboliek van het kaartleggen met de Lenormandkaarten. Het Orakel van Mlle Lenormand, is het klassieke handboek voor wie zich wil verdiepen in de kunst van het kaartleggen.
Zowel de traditionele duiding, uitgebreid met een moderne interpretatie, als een duidelijke beschrijving van de symboliek van de Lenormandkaarten komt hier aan bod. Met de eenvoudige en duidelijke uitleg kun je meteen aan de slag met de kaarten.
In het handboek wordt bijzonder veel aandacht besteed aan de betekenis van de Sleutelwoorden, ontmoetingskaarten, de hofkaarten, de raadpleging en vele nieuwe methoden. Het kaartleggen me de Lenormandkaarten wordt stap voor stap uitgelegd. Vooral thema's als liefde en partnerschap staan hierbij centraal.
Mlle Lenormand, 1772-1843, is een van de beroemdste waarzegsters die de wereld ooit gekend heeft. De naar haar genoemde orakelkaarten geven je inzicht in jezelf en opheldering over gebeurtenissen in verleden, heden en toekomst. Zowel boek als kaarten zijn dan ook een echte levenshulp en troost in moeilijke tijden.
Inhoud:
176 Pagina's met de kaarten in kleur afgebeeld, een uitgebreide duiding en voorbeelden 36 originele Cartamundi Lenormandkaarten
Prijs: 19,00 euro
---
Red Purse for small decks
To put 36 cards of your small decks (Lenormand, Tzigane Gipsy, etc...) 100% coton, size 7 x 9,5 x 1 cm. A very practical tool... Price: 5,00 euro
---
Beautiful purse specially made for Lenormand decks. Price: 12,00 euro
Click here to visit our main website and to know how to order this tarot
---